When you last sat down with your team to discuss their future career path, their current work performance and set future objectives, it's likely that SMART goals – those that are specific, measurable, achievable, realistic and time-bound – formed the basis of the conversation. That's no surprise – SMART goals have their roots in the 1950s when management guru Peter Drucker introduced "management by objectives", an approach whereby employees would agree with their manager on a set of goals and work toward achieving those goals throughout the year.
However, some have questioned whether SMART goals still cut it.
"SMART goals undervalue ambition, focus narrowly on individual performance, and ignore the importance of discussing goals throughout the year," according to research findings published in a comprehensive MIT Sloan Management Review article.[1]
What are FAST Goals?
It's been called a battle of acronyms, but today a new goal-setting model is being advocated: FAST goals. FAST goals are:
F – Frequently discussed. Goals are constantly being reviewed and evaluated
A – Ambitious. Goals are difficult but not impossible to achieve
S – Specific. Goals are translated into metrics and milestones, which helps provide clarity on the next steps necessary to achieve objectives and measure progress
T – Transparent. Everyone can see what your goals are, and you can see what your colleagues' goals are.
Summary & Benefits of FAST Goals?
FAST Goal Definition & Benefits
A succinct summary of FAST goals appeared in the MIT Sloan Management article: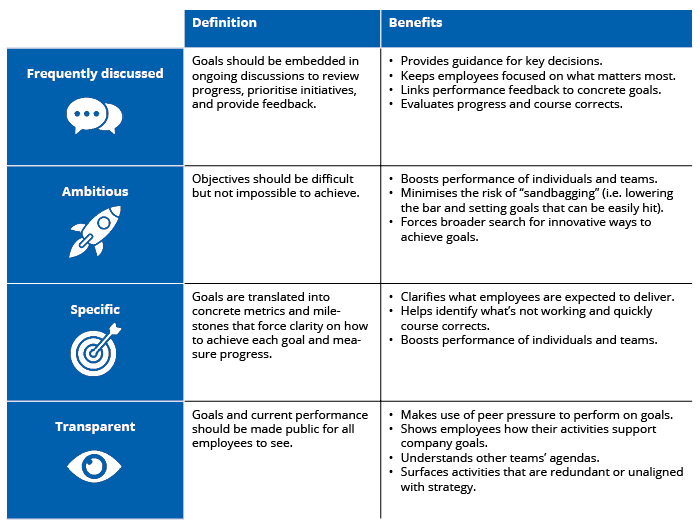 Examples of FAST Goals
Since FAST goals are generally more specific and transparent than SMART goals where they are generally expressed using defined metrics and milestones such as OKRs (Objectives and Key Results) – some examples of FAST goals could be:
Grow Twitter followers from 10,000 to 20,000

Generate 50,000 marketing qualified leads by end of 2023

Boost customer retention to 95%

Develop 1 customer case study every month

Secure an award at a business conference
FAST Goals vs SMART Goals
Unlike SMART goals, the FAST approach emphasises setting goals that are difficult but not impossible to achieve, embeds them into ongoing discussions for constant evaluation and feedback, and then publicises these goals for transparency.
However, the shift towards FAST goal setting is far from easy. The traditional performance management framework in many organisations doesn't help the cause. Waiting for a year to receive feedback on goals in an often one-sided manager / employee conversation doesn't provide much scope for course correction and doesn't encourage feedback – which can be a key motivator for employees – to occur regularly.
Indeed, providing feedback to employees is a recurring theme, regardless of whether SMART or FAST goal setting is implemented. In the MIT Sloan Management Review research, some 70% of surveyed managers said they want monthly updates on how they were tracking against their goals. However, only half said they received monthly feedback. This may be slowly changing, as an increasing number of high-profile organisations (including Google, Accenture and IBM) reinvent their traditional performance appraisal process to incorporate ongoing discussions on how employees are tracking, which keeps these objectives top of mind throughout the year.
Read more: discover the 5 ways performance management is transforming to adapt to the future of work
Are FAST Goals better than SMART Goals?
That's not to say FAST goals are necessarily better than SMART goals. FAST goals actually borrow certain workable elements of SMART goals (for example, the metrics, the match between metrics and realistic timeframes), while correcting some of their drawbacks. What's clear is that in stable and predictable settings, SMART goals remain valuable and viable. In a rapidly changing world, FAST goals can help create a high-performing culture.
ELMO Performance Management enables organisations to align individual and team goals with organisational strategies, offering a range of pre-built goals and development objectives, provides 360 reviews that assist in the development of a performance culture that reduces employee turnover. Its features include tailored performance appraisals, automated workflows, and custom reporting functionalities.
Read more: How to choose the best performance management system
ELMO Software  is a cloud-based solution that helps thousands of organisations across Australia, New Zealand and the United Kingdom to effectively manage their people, process and pay. ELMO solutions span the entire employee lifecycle from 'hire to retire'. They can be used together or stand-alone, and are configurable according to an organisation's unique processes and workflows. Automate and streamline your operations to reduce costs, increase efficiency and bolster productivity. For further information, contact us.
[1] "With Goals, FAST Beats SMART", MIT Sloan Management Review, 2018